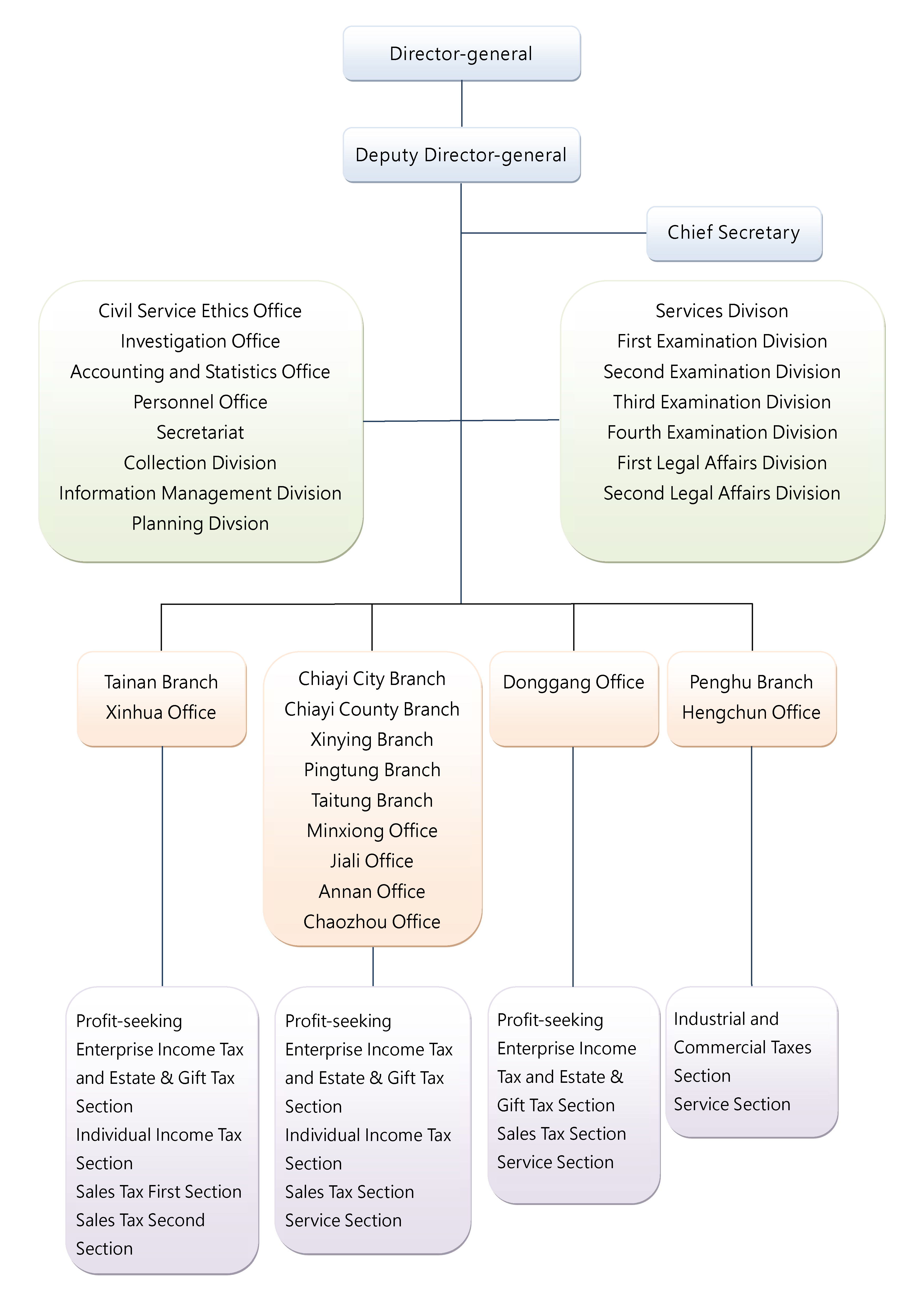 ●The head of the Council, in addition to the Director-general,Deputy director-general, Chief Secretary,auditor and other heads of the staff to deal with tax business.
●The general office has 10 divisions and 5 offices, set within 7 branches, 7 tax collection offices.
●10 divisions:
Planning Divsion、Services Divison、First Examination Division、Second Examination Division、Third Examination Division、Fourth Examination Division、Collection Division、First Legal Affairs Division、Second Legal Affairs Division、Information Management Division.
●5 offices:
Civil Service Ethics Office、Investigation Office、Accounting and Statistics Office、Personnel Office、Secretariat
●7 branches:
Chiayi City Branch、Chiayi County Branch、Xinying Branch、Tainan Branch、Pingtung Branch、Taitung Branch、Penghu Branch.
●7 tax collection offices:
Minxiong Office、Annan Office、Xinhua Office、Jiali Office、Donggang Office、Chaozhou Office、Hengchun Office.
※ Tainan Branch、Xinhua Office:
Profit-seeking Enterprise Income Tax and Estate & Gift Tax Section、Individual Income Tax Section、Sales Tax First Section、Sales Tax Second Section、
Service Section
※ Chiayi County Branch、Chiayi City Branch、Xinying Branch、Pingtung Branch、Taitung Branch、Minxiong Office、Jiali Office、Annan Office、
Chaozhou Office:
Profit-seeking Enterprise Income Tax and Estate & Gift Tax Section、Individual Income Tax Section、Sales Tax Section、Service Section
※ Donggang Office:
Profit-seeking Enterprise Income Tax and Estate & Gift Tax Section、Sales Tax Section、Service Section
※ Penghu Branch、Hengchun Office:
Industrial and Commercial Taxes Section、Service Section